Cricket is one of the most widely played sports on this planet. Cricket is the world's second most popular sport, with millions of people tuning in to watch every match.
Many cricket fans are glued to their TV sets or smartphones to watch LIVE cricket competitions, whether it's ICC or IPL matches, however many cricket fans desire to watch LIVE Cricket Free on PC and Laptop but haven't been able to discover a solution.
If you are unable to watch cricket on TV or smartphone, you can stream LIVE India VS England ODI Cricket free on a laptop or PC with the following methods.
Download Bluestack X
If you dont like scammy Website or streaming links that changes day-to-day basis. It also doesn't guarantee that it will work at the time of the match or not. We will take a new route and Download the Bluestack X app on the Laptop or pc.
Bluestack X is an app that can run any Android app on Laptop/pc and is basically famous for playing PUBG or BGMI mobile games on the PC.
Bluestack X is a heavy app, and Laptops/pc with Intel Core 2 Duo, Celeron, AMD A-Series chipset are bound to struggle. You can download the Bluestack X from the below link on your computer.
MX Player APK
Currently, MX Player is the most reliable and dedicated app for streaming Cricket LIVE. We have previously told you about the Android apps for IPL LIVE streaming. I found MX Player is the most reliable one among them. It gives you an HD quality experience without any buffering and no downtime.
You can download the MX Player APK directly on your computer from the given link below.
Pikashow TV
The Pikashow is the second-best app on our list for watching Cricket live Matches. It provides dedicated channel recommendations of the Cricket Matches streaming channel on the Homepage. You can Watch any live cricket matches playing today online in HD quality in your favorite languages like Hindi or English.
Stream India
Stream India is well-known for live-streaming cricket matches from around the world via several international channels. As a result, fans will be able to watch nonstop cricket entertainment on this platform. The upcoming India matches can be viewed in high definition.
How to Setup Bluestack X with MX Player on PC
1. First, download the Bluestack X from the link given above
2. Click on the install button and following on-screen instructions.
3. After installation, open BlueStacks and click on the search bar, and type MX player and then install
(Note: I will recommend avoiding this step as it will take mammoth time to download and install 10-12min)
4. Instead, Download the MX Player APK directly on your computer from the link given above
5. Now Click on the Install APK given on BlueStack and follow the instruction.
6. MX Player will be installed instantly with this method and no need to sign in Google Play.
How to Watch cricket in MX Player on PC
1. Click on the MX Player app in BlueStack X
2. Copy the Desire streaming Links from 1080p, 720p to 480p from these Telegram channel 1 and Telegram Channel 2
NOTE: You can copy the link and paste it into the Gmail app on the phone and then open Gmail on PC and copy the link from Draft and past it.
3. Paste in the Network Stream section of MX Player.
4. Now Enjoy World Cup t20 live streaming.
How to Setup PikashowTV on PC – Install PikashowTV apk on BlueStack following above method shown for MX Player and open it to watch the LIVE Cricket 2022
Troubleshooting with BlueStack on PC
If you find any difficulty in watching the World Cup T20 live telecast on BlueStack, then follow these
1. Switch to the lower quality streaming link from 1080p to 720p or 420p.
2. Close the background app on PC, especially Google Chrome.
3. Delete your cache by going to search and type there %temp%
Sign Up with 1X Bet and get upto Rs 10000 Bonus Instantly
Dream 11 is the most popular Betting site but it gives you nothing after you lose or Sign up. Meanwhile 1X Bet Gives you upto 10,000 INR means 100% Bonus on your First Sign up, here's How
1 Register with 1X Bet here
2 Fill out the Details along with PROMO Code: Gadget1x
3 The minimum required deposit to activate the bonus is just Rs 75.
You can also place a Risk free bet on World Cup T20 Matches and get upto Rs 1500 if you lose and if you win you get double. Start betting here
It's better than Dream 11, as there is no risk involves and there is surety of winning something even if you lose, so try it now.
Cricket LIVE streaming online Site List
This method of watching live cricket is simple and easy to use; there is no need to download any apps or make any adjustments to Windows 10 or macOS; simply watch cricket live streaming channels without buffering. You may also watch matches on your Android or iOS phone using this method.
Install VPN on your Device.
It is an important thing as you can only access the Cricket Livestream websites with the help of a VPN. However, you can use these Free VPN on your iPhone, iOS, and macOS.
[1] iPhone – You can use free VPN on your iPhone and any other iOS device like – Proton VPN, Windscribe VPN, or Hotspot Shield, etc.
[2] macOS – You really don't need to download or install any VPN instead, you can use Google Chrome extension like – Setup VPN or Touch VPN etc. Although, you can Download and Install VPN like – NordVPN and ProtonVPN.
[3] Windows – Install VPN Like Norton, Tunnel Bear, etc. Also you can install Google VPN Extension like – SaferVPN Proxy and CyberGhost VPN on Chrome browser.
[4] Android – Use Secure VPN, Hotspot Shield or 1.1.1.1 VPN on your Android device for fast and secure connect.
NOTE:
Not all websites require VPN to connect or Livestream
VPN Required: If you want to watch a live stream of a current match without any advertisements or distracting, click on the match link directly above. Just use any VPN and start watching directly LIVE India cricket matches. You can watch India vs West Indies live online Streaming here.
VPN Required; The CricHD ranks amongst the top live cricket streaming free websites. It provides a significant experience to its users and lets them watch the games in HD quality. The best part is that it displays all the live matches streaming from different regions and different channels so that you can choose to live stream cricket in your language.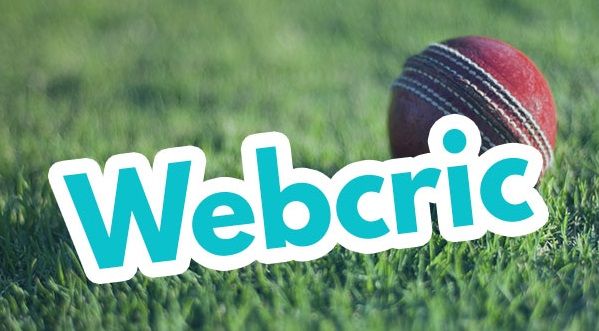 VPN Not Required; WebCric is a simple website that focuses on cricket and doesn't have any worthless clutter on the website. With WebCric, you can easily navigate to your favorite Livestream of Cricket matches. It also gives you the option to select HD or Normal quality based on your Internet speed. Additionally, it also telecasts the games by local leagues.
VPN Required; CricFree is another website that follows simple User Interference; other than cricket, it also streams major sports events around the globe. This live cricket streaming site is quite reliable and allows sports fans to interact via a chat section.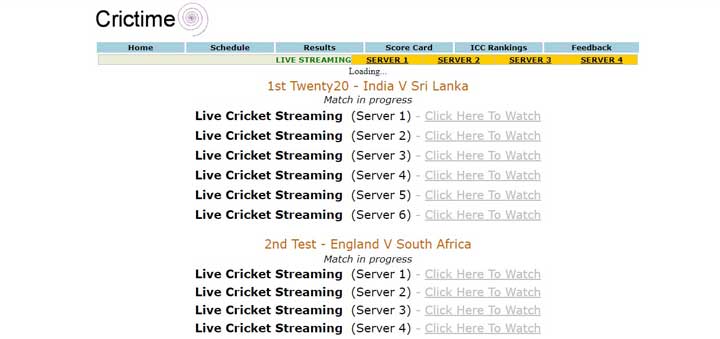 VPN Required; Crictime is the best website for Livestream Cricket matches. The user interface is simple and easy to navigate to your favorite Live Matches. You can watch the on-going cricket series matches Live Online for free.
If you find any problem on streaming LIVE Cricket matches, let us know in the comment section below.