Have you ever wondered why the games on Play Store need so many permission or why game apps require access to all photos from the users to install the game? While installing a game, you go through the never-ending 'Terms and Conditions' and permission list, which had given you second thoughts is that these permission listed on the pop-up box are a threat to your personal data & belonging.
Apps that have access to your gallery or your contact list and messages can store your bank transactions and one-time passwords and access your pictures without your prior notice.
Did you know apps that have "Full Network Access" know your exact location, house number, favorite restaurants, email account details, etc.? There is no need to panic as not all apps on the play store are designed to do so. These types of activities are specially performed by the Food app, which needs to know your location and address for fair delivery, but what about the gaming app, which collects this information without your prior notice?
When you download a gaming app or an app update from Google's Play Store, you get a pop-up listing all the permissions it needs to be given. It could include permissions to access your phone call details, Photo/Media files, Full Network Access, etc., but what does a Gaming app have to do with that unnecessary permission? Here's the answer
The authorization to the game app requires access to photos & media on your Smartphone is the same as the authorization to access local storage. These games simply want to store their files locally. It also helps the game to permit and store the screenshot of the in-game in the internal storage of a phone.
Games usually create files while you play, For example, to store and save the file, or when you download some add-on to the game, they are usually stored in the internal storage Ex: Android/Obb folder. Google has mentioned the following info about these permission here
Photos/Media/Files
In a app Photos/Media/Files access may include the ability to:
★ Read the contents of your USB storage (example: SD card)
★ Modify or delete the contents of your USB storage
★ Format external storage
★ Mount or unmount external storage
Here is some other permission that a gaming app needs.
Phone Permission – Let the app know if you are taking the call and pause the game. (Most of the games do it unnecessary)

Location – It allows games to track your position with GPS helpful in AI games like Pokémon etc.

Microphone – It allows Online Multiplayer games to use the microphone for chatting purposes.

Sensor – It helps the game access the gyroscope sensor to know the exact position of the smartphone, and with that, it can adjust the game automatically and other body sensors.

Storage – To read and write the external storage.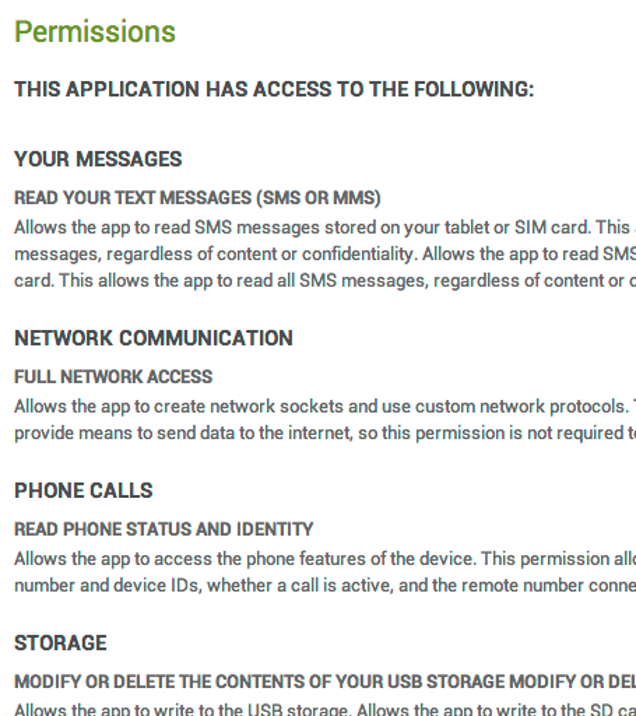 The thing you should be concerned about while installing any game is the "Full Network Access" this is where you need to be cautious. Although it helps the app send requests and respond through the network, the gaming app needs network access for multiplayer games, which obviously needs to add the users to their gaming servers like in PUBG.
It is said to display ads on the game, but with Full Network access, the developers can gain access to your media/phone/files with permission and upload them to their servers without your notice. Subway Train is one such game that has been accused of stealing data and was identified as malware. It even had Millions of downloads.
Google now has changed the structure of the Android Apps running on Android 6.0 (API level 23) or higher to protect users' interests. The user isn't notified of any app permissions at install time; instead, ask the user to grant the dangerous permissions at runtime, and users can enable and disable them as per their choice. It also gives users the option to enable and disable permissions one-by-one in system settings.
However, previously in Android 4.0, the app could access all the features listed above without any prior notice or the permission box. Now, you can find each permission on a pop-up listed before downloading the app. You can get more details over here – Permission overview
How to protect from a potentially dangerous apps?
If you are still not satisfied and want complete control over your apps installed on your Smartphone or want to see which app is messing around, then you can download "Permission Dog," which is pretty easy to understand thanks to its UI. It helps to identify which app is potentially dangerous and okay, gives a Dangerous rating as per the acquired permission by an app, and keeps an eye on the types of information that your app requests.
Make sure you read the list of permissions every time, and make sure to check the app listing at Google Play do not overlook or skip it. There is no need to panic looking at an app that requires a ton of permissions. In many cases, the problem may be when users don't understand why the app needs its permissions. It could be some dependency in Android that the developer had to fulfill for the app to access features on your smartphone to execute commands and work properly.
Remove App Permission Manually
Yes, removing or stopping the app from accessing your personal data is possible. Here's how to do it:
Locate and click on the app to which you want to restrict access.
Now navigate to the app's Permissions option.
Uncheck the Storage permission or any other permission you do not want apps to have access to.
So before you hit a break or accuse the dev of stealing your data, check the app's description at Google Play and see if the developers listed out the permissions at the bottom of the features. If they don't list it on Google Play, you'll often find more information at the developer's website or a "privacy policy" link. Even still you are not satisfied, ask the dev why their app requires the specific permissions via Email given at the bottom of the app in Google Play.
If that sounds like too much effort, just don't install the app and find other more transparent alternatives. Do tell us in the comment whether you read out all the permission before downloading any app?