Even though many aspects of using an iPhone are easy and quick, sorting through your multiple iPhone contacts is not one of them. If you want to delete every single contact, you can either swipe to delete and confirm or sign into your iCloud and do the exact same thing. It's a waste of your time, but how to delete multiple contacts on iPhone in easy way?
However, there are two easy methods – to delete multiple contacts on iPhone using iCloud and without iCloud. You can delete multiple contacts at once with this solution by selecting all the contacts you want to delete at the same time.
How to Delete multiple contacts on iPhone using iCloud
As opposed to the Contacts app on an iPhone, iCloud's web interface lets you select multiple contacts to delete.
1. Log in to iCloud.com using your Apple ID and password on a computer (this will not work on a mobile device).
2. Select Contacts from the main page.
3. Now, press the Control key on your Mac or Windows and select the contacts you want to delete.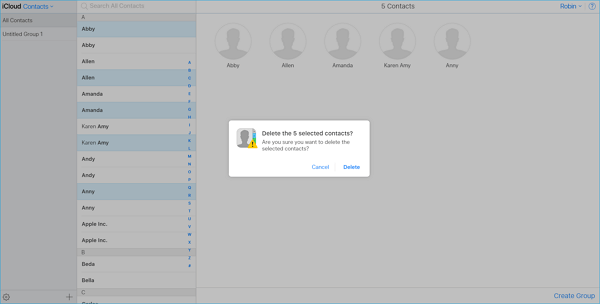 4. Select other contacts to delete by scrolling down.
5. Then, select Delete from the Settings icon in the bottom left corner of the screen.
6. Confirm your selection by selecting Delete in the box.
The contacts you chose have been deleted from all of your devices.
How to Delete multiple contacts on iPhone without iCloud
You can delete multiple contacts on your iPhone using the Groups app, which is a third-party app. In-app purchases provide advanced features to the freemium app. While the feature to delete multiple contacts is a free tool.
1. On your iPhone, download the Groups app.
2. Now, open the Groups app on your iPhone.
3. When prompted, give Groups access to your contacts.
4. From the Groups list, choose All Contacts.
5. Go through your contacts and tap on the circle in the left of the name to highlight the ones you want to delete.
6. At the top, tap Choose Action.
7. In the popup menu, select Delete contacts…
8. To confirm, tap Remove from my iPhone!
You can now verify that the selected contacts have been deleted on the iPhone's built-in Contacts app. Other devices, such as the iPad and Mac, also do not have these contacts.
How to Delete all your contacts on iPhone
If you need to remove your contacts before giving your phone or selling it to a random stranger, this method is the only way to go.
Step 1: Go to settings and then click on the general.
Step 2: Now, in general, click on Reset.
Step 3: Select Erase All Content and Settings.
Step 4: Enter your Apple ID and Tap on Confirm.
Conclusion
It can be difficult to delete all of your contacts from your iPhone, but now you know a few different methods for doing it. Once the contact has been deleted, you can reopen the Contacts app and search for the contact to confirm.
Remember, these given method works on all iPhone – including iPhone 13, iPhone 12, iPhone 11, iPhone X, iPhone 8, iPhone 7 etc. If you counter any problem, let me know in the comment section below.