Xiaomi Poco F1 vs OnePlus 6 who is the Real Flagship Killer Device
Xiaomi recently launched the "Poco F1" sub-brand and became the Cheapest Smartphone with Snapdragon 845. The OnePlus 6 has already started to feel the heat as its fans are busy praising Xiaomi Poco F1. Xiaomi Poco has already started winning the hearts of OnePlus fanboys, and you can see its effect in OnePlus forums, which are filled with praises and admirers of Poco F1.
If we Keep Poco F1's low price aside, it also has some outstanding features that make it ahead of the OnePlus 6. The Poco F1 has the added benefit of Liquid Cooling technology, a bigger battery, Micro SD Slot and more.
OnePlus fans have reported many problems with the OnePlus 6 soon after its launch, whether we talk about its lousy camera department or heating problem with intense gaming. Mainly this isn't the major issue as updates can correct such issues.
With the Budget of the OnePlus 6, you can get a Poco F1 smartphone easily and plenty of money left to buy a Redmi Note 5 Pro too. The pricing of Poco F1 is a Dealbreaker here. Seriously how does Xiaomi manage to give the latest 845 processor with Liquid cooling at the such price it does raise the eyebrow of its fellow competitors, and Samsung's eyes might be popped out as they sell Snapdragon 845 at a hefty price in the market.
The Poco F1 is Global Smartphone, not just for India. The pre-orders in Europe for Poco F1 have already started, which means that Xiaomi is ready to counterpart the OnePlus 6 Globally with its Poco F1.
DISPLAY
The Poco F1 Display is less spectacular when compared to OnePlus 6. The OnePlus offers you a more premium display of 6.28-inch 2,280 x 1,080 AMOLED display, so you can expect great viewing angles and always-on display functionality. In contrast, the Pocophone F1 sports a 6.18-inch 2,246 x 1,080 IPS LCD Display which is no near close to AMOLED Display. Both phones feature a notch, with the F1 featuring an even wider cutout due to Infrared Sensor.
POWERHOUSE
Hands down to Xiaomi for bringing latest Snapdragon 845 processor at phenomenal cost with added Liquid cooling technology which helps Smartphone to cool it down while intense gaming, a perfect Smartphone for game lovers while OnePlus 6 also comes with Snapdragon 845 processor but without liquid cooling technology.
Both the Smartphone offer you 6GB or 8GB of RAM, and 64GB/128GB/256GB of storage according to your need.
CAMERA
The camera department is one of the main areas where people take much interest. The Xiaomi-backed handset offers a 12MP f/1.9 main camera, as well as a 5MP secondary camera for capturing depth information. The Poco F1 uses larger pixels in its photos compared to OnePlus 6 but again OnePlus support more premium camera of a 16MP f/1.7, and a 20MP secondary camera. Additional to it OnePlus 6 support optical image stabilization (OIS) compared to Electronic image stabilization (EIS) on Poco F1 which is a let-down for Poco F1.
Poco F1 handles Selfie Department like a Pro with 20MP selfie camera that uses pixel-binning to deliver better shots. A 16MP camera handles selfie department on the OnePlus 6.
Although in results we can see that at a given condition the Poco F1 camera delivers outstanding images when compared to OnePlus 6.
BATTERY
There is no comparison when it comes to Battery department, the Poco F1 wins from Miles ahead with 4000 mAh battery compared to OnePlus 6 which has only smaller 3,300mAh battery. Poco F1 come with Qualcomm Quick charge 3.0 while OnePlus 6 comes with Dash charge support.
DESIGN
The Poco F1 is made out of polycarbonate (aka Plastic) not so premium looking phone neither does it feel, we can clearly see Xiaomi has done cost-cutting in this department. Although you can shed extra money and buy more premium variant of Poco F1 Armoured Edition with a Kevlar back. Whereas OnePlus 6 comes with more premium design with Glass rear back but personally I am not a fan of Glass Rear Design as I have a bad experience with Moto X as Rear Glass shattered with only one drop and OnePlus 6 feels hotter with mild gaming due to Glass Rear design even if the processor is not that Hot.
Special Features – The Poco F1 has the advantage over OnePlus 6 with infrared-based facial recognition being the first one which helps in unlocking the phone in Dark and much accurate compared to OnePlus 6. The other feature is the microSD support which is missing in OnePlus 6.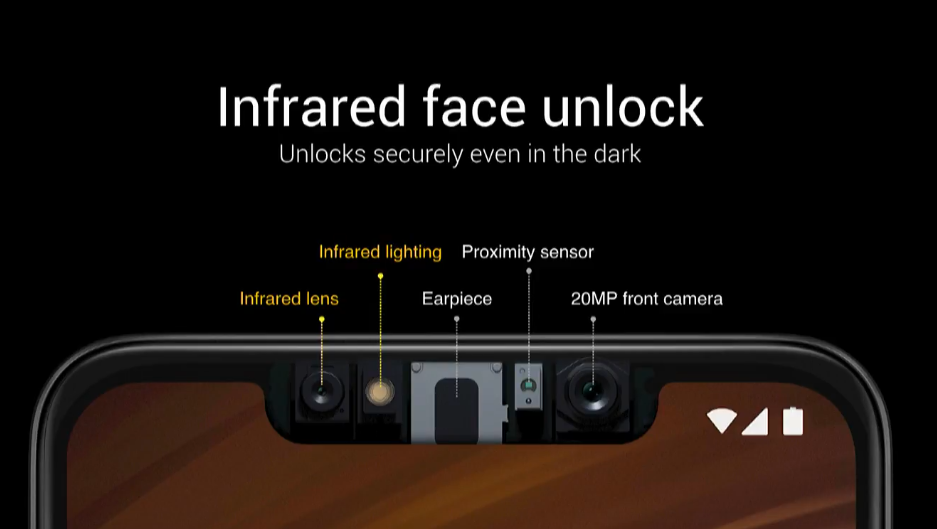 CONCLUSION
OnePlus is responsible to popularized the "affordable flagship" trend but it looks like Poco F1 has given the duty of killing the "Affordable Killer Flagship devices" with it insane pricing of 21,000 rupees ($299) which is over $200 cheaper than the OnePlus 6. While the Top-end Variant of 256GB storage will cost you about Rs 28,999 ($415) compared to top-end OnePlus 6 which costs Rs 44,000 ($629)
But Hold down your horses the Poco F1 looks to be more lucrative for the given price but its not a complete flagship Smartphone as lot of compromises are made to make it cheaper, it lacks NFC, OIS, AMOLED Display, premium design, which are the qualities of Flagship device like present in OnePlus 6
At the end of the day it's the users who need to make their decision according to their need but if the missing features on the Pocophone F1 bother you or you cannot compromise with the features then ill suggest you to go with Gorgeous OnePlus 6 or else save $200 for accessories and buy the Poco F1.